Greg R. Kelly
Fan Site!
"Have Mom pay the American Express bill - by phone. It will come out of my account...
Also, she was talking about whether to do H&R Block with the taxes or send it to that guy on Long Island.
Go ahead and do H&R Block and she can fake my signature."
- Greg Kelly to his dad, Ray, talking about taxes
from the middle of the warzone in Baghdad
11.19.05
LATEST NEWS...
Below, 4 pics of Greg reporting from Iraq in April 2005
Below picture of Greg in Fallujah with Master Sgt KD Lane USMC taken 4/5/05,
Courtesy of MSgt KD Lane, USMC
SNCOIC, Fallujah CMOC
Video report from Greg in Iraq, 4/12/05

Check out this site for pics of Greg receiving an award at the Veterans Recognition Ceremony at the Intrepid Sea-Air-Space Museum, 30th November 2004
Click here for Greg's Op-Ed, There's No Politics in the Foxhole, in the New York Times 10.18.04
Below, Pics of Greg in Iraq, Courtesy of Ben Johnson of BenThere.com
Greg is now reporting out of the D.C. Bureau
Thanks to Minnie of Fox News Channel Central for many of the Greg pics

Greg Kelly with MSgt KD Lane, USMC in what use to be a Youth Center in Downtown Fallujah, 4/5/05



Greg - Active Duty Marine Pilot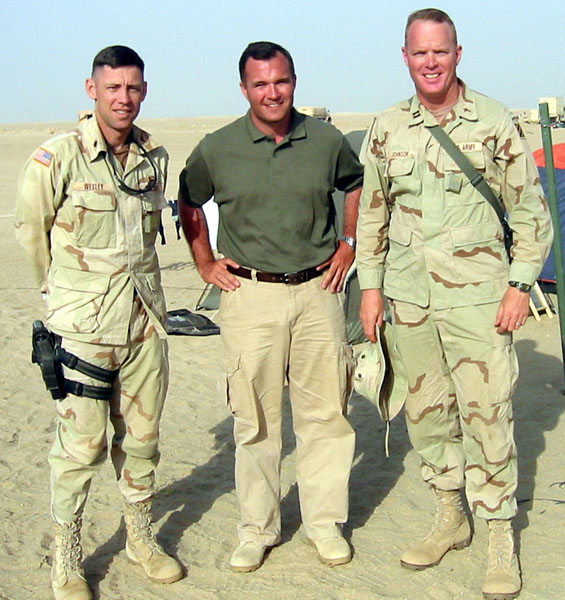 Lt. Col. Eric Wesly, Greg Kelly, and chaplin Capt. Johnson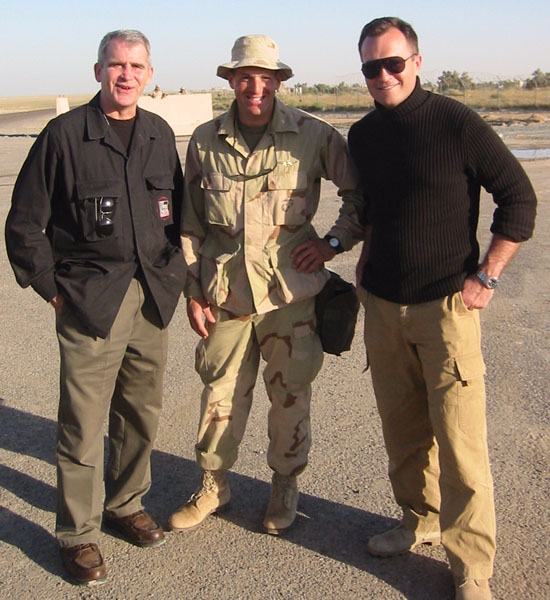 Oliver North, Matt and Greg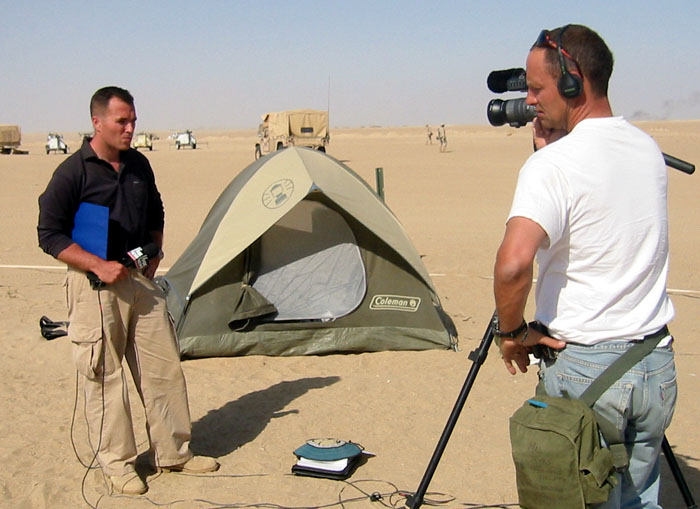 Greg Kelly and Mal James do first liveshot from the desert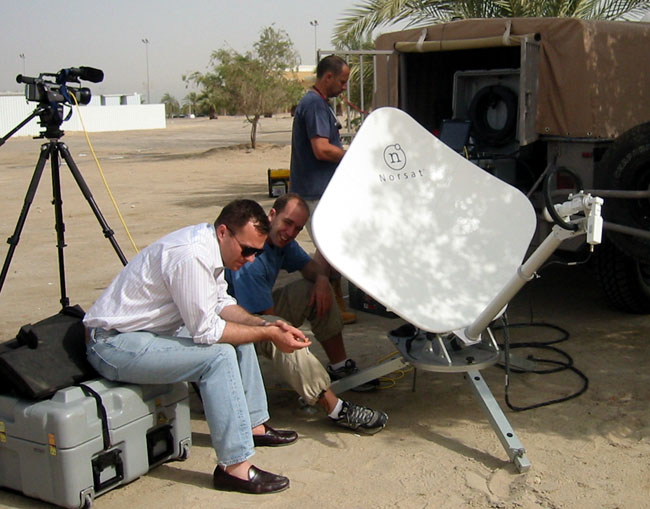 Greg Kelly, Pat Butler, and Mal James testing antenna in KC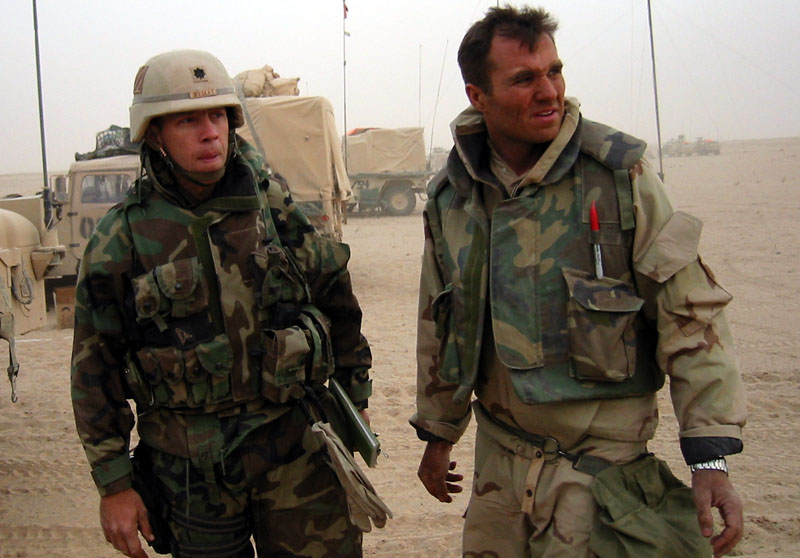 Lt. Col Eric Wesley and Greg Kelly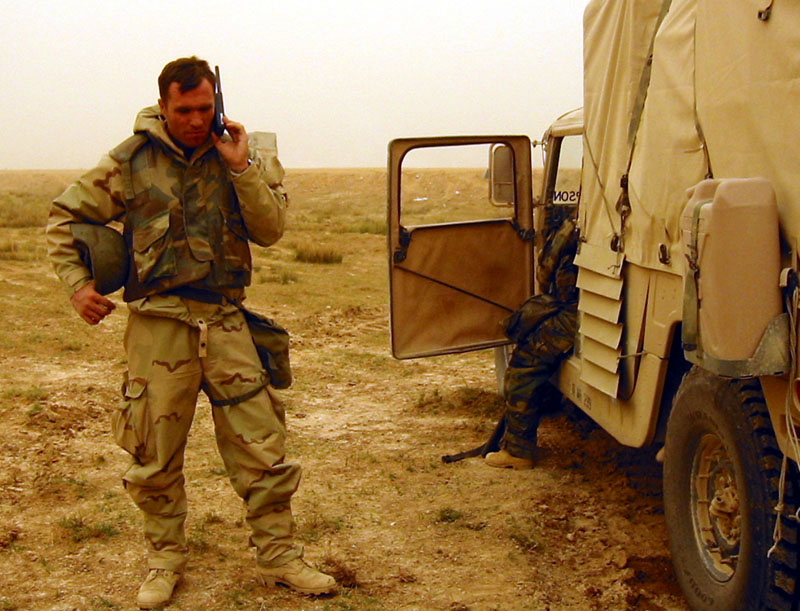 Greg reporting via telephone after the mortar attack

Greg was honored 5/4/03 by the New York State Shields for
Integrity in Journalism
Thanks to Heather for this information!
...For you Fox News Fans, check out Fox News Channel Central
Special Thanks to Caroline for the fantastic photo of Greg
in his days as an active duty Marine pilot!
---
If you're like us, you were glued to Fox News during Operation Iraqi Freedom! It was here that we were introduced to Fox News Embedded Reporter Greg Kelly - the first reporter to ride into Baghdad! Greg was cool under pressure - unlike his comrades Rick Levanthal (we love you too Rick) and the overdramatic Geraldo Rivera (who is always entertaining). We got use to Greg's cool demeanor and his obvious comraderie with the Third Infantry Division - Army. How many of you freaked when Greg was hit with shrapnel - we all prayed that he'd be okay! Or when he was with the 3rd I.D. riding right through downtown Baghdad and yelling - 'hey, don't shoot that guy!' We also loved how Greg described Saddam's castle as"seedy and cheesy"! Did that say it all or what? Well, we are glad that Greg is safe and back on U.S. soil! If you have any links or pictures to contribute to the site, please email us at jdpnlp@hotmail.com. Thanks for the ride, and here's to Greg Kelly!
Greg Kelly Bio - Foxnews.com
Greg Kelly, an Atlanta-based correspondent for the FOX News Channel (FNC), joined the network in November 2002. Most recently, he provided extensive coverage on Operation Iraqi Freedom and was embedded with the U.S. Army's 3rd Infantry Division, 2nd Brigade. He was the first television reporter to deliver live pictures to the world of U.S. forces infiltrating Baghdad on April 5th. Two days later, Kelly captured another exclusive during the storming of Saddam's presidential palace. Prior to joining FNC, Kelly served as a reporter for New York 1 News, where he covered New York City politics. Prior to his stint there, Kelly served as an anchor for the morning news program at WIVT-TV (ABC) in Binghamton, NY. Before pursing his career in journalism, Kelly spent nine years as a fighter jet pilot in the United States Marine Corps. During his military service, Kelly amassed 158 aircraft carrier landings and flew over Iraq in Operation Southern Watch, enforcing the United Nations imposed "No-Fly Zone." He currently holds the rank of Major in the Marine Corp Reserves. Kelly graduated from Fordham University (1991) with a Bachelor of Arts degree in Political Science.

Greg Kelly Bio - Additional Tidbits




Special Thanks to our GK Online Reporter Sally for contributing to this Bio
Greg is reported to be 34 years old (2003)

Greg's Birthday is December 17th

Greg's full name is Gregory Raymond Kelly

Greg's Favorite TV Show is Jim Lehrer's News Hour

Favorite Food - Meatloaf and mashed potatoes!

Favorite Soda - Fresca!

Favorite Movie - "Goodfellas"

Greg plays saxophone

Greg's father, Ray Kelly, is New York City Police Commissioner

Greg is currently a Marine Reservist. Greg served out of Camp Pendleton, CA.

Greg once had to eject from his plane and was found unconscious - his helmet was found 2 miles away from his location

Greg earned his pilot's license at age 19

Greg is an avid reader - he has read 22 biographies on Richard Nixon alone

Greg "loves pound cake and ice cream"!

Fan Feedback

---

Thank you for all the interesting information on Greg Kelly. I'm a huge Fox fan and Greg Kelly fan. Greg is the kind of person you can't help but adore. He loves his family and has a wonderful relationship with them. He loves, serves and protects his country as a Marine. He served his country just recently by bringing us reports from the absolute dangerous front line of Operation Iraqi Freedom. He's a fabulous reporter. I find his calm, cool, level-headed, intelligent demeanor to be quite charming. Oh, did I mention he was handsome to boot? What a guy......We need to see more of Greg on Fox!

---

I'm glad that you started this website. It makes not seeing Greg on FOX a little easier . I have found that if you keep watching you will eventually see him. He looks great in a suit but I must say my favorite is the black shirt as well as his flight suit! He seems like a really great guy! Thanks again!- Ann

---

Three cheers for your website. It's about time we started revering a brave and honorable man who is also a very humble person. Watch this guy because he possesses greatness and he is destined to play a major role in our futures. - C.L. Pierce

---

Thanks for this site! I too have missed Greg since he came home. Not only is he a great reporter but he's nice to look at, too! I hope we see more of him on Fox News. I need my Greg Kelly fix! - Sharon

---

Hey, I just wanted to tell you great site. Isn't Greg Kelly just the cutest. - Kathie

---

Thanks for posting all of the photos of Greg. I especially liked the one of him in the flight suit, but my favorite is the photo with Rick Leventhal, in which Rick has his arm around Greg in a "We're buddies" type pose. I hope that everyone will email Fox and hound them into bringing back Rick and Greg. Fox News just isn't the same without our favorite embeds. - Jan

---

Greg was awesome as a reporter. I saw him on TV seconds after he got hurt. Not only is he a great person, he seems like part of the family because he grew up with my grandchildren in Garden City, NY. He is more special to me because he plays the saxophone, which is my favorite musical instrument. Tell him to ask George and Tim about my famous poundcake! I'm happy Greg is home safe. He did an excellent job. Just call me Granny.

---

So glad I found this website. I, too, felt like Greg became "part of the family." I, too, am going through withdrawels now. Since he is based out of Atlanta, Fox should give him some kind of show reporting from there. Anything, Fox, just bring him back to us! - Karen

---

Great Greg Kelly site! Huge fan of Mr. Greg Kelly and FOX News. Keep up the great work. Please post more pics and info on Greg Kelly, the best reporter around. - CC

---

Why haven't we seen Greg lately? I read somewhere that he might be doing his reserve duty before he comes back to Fox. Hope to see him soon! - Liz

---

I loved watching Rick and Greg but I miss them both :( Please Fox BRING THEM BACK! - Kirsten

---

Please let us know when we will see Greg again. I am watching Fox all the time but they aren't showing him at all. Thanks - Lisa

---

Great website - I miss seeing Greg so much. Where has he been? Fox News is one smart network - they give us 24/7 coverage of Greg and then they take it away! They have us all watching Fox just for a glimpse of Greg now! - sa

---

Thanks so much for the site! I've been searching for one ever since I saw his reports on Fox, Greg is a true hero to put his life on the line in order to bring accurate information to us! I check the site everyday, Keep up the good work! - Denise

---

Thanks so much for this website. I have been searching all over the web for information on this wonderful reporter! Thanks again for a great website! - Janet

---

Wonderful site! Thank you for this awesome tribute to Greg Kelly! - Susan

---

Hey, I love the pictures of Greg! I haven't found anything else on the web with so much information in one place! The site rocks - keep up the good work! - Louise

---

We prayed for Greg the entire time he was in Baghdad - he literally became part of our family! We were always worried about him, hoping that he would be okay. Thanks so much for putting this tribute together - Greg is a true class act. - Kim

---

The site is great. I hope Greg gets to see it and is proud of his popularity! He should be - he shows true class. - Megan

---

I've been searching and searching and had started to think I'd never find a web page for Greg. Your webpage looks great. I love the pictures. There are not nearly enough of him. - Jenny

---

Great site - no lousy Frontpage templates here - I like it! - Jimmy

---

Thanks for the tidbits on Greg. There isn't much info on the web about Greg - thanks for bringing us as much as possible! - Lisa

---

Greg is the best. I can't believe he wasn't "discovered" much sooner. He rocks and we love him - keep us posted on what he's up to for the future! - ghb

---

I can't believe this site is out there - thank you sooo much! I have missed seeing Greg on Fox - they better get his mug back up the screen because us Kelly fans need our Greg fix! - Jenna

---

For more articles and information on Greg, see our Links page!

For more Pictures/Photos of Greg, see our Pics page!

To submit comments, pictures or more information, email us at jdpnlp@hotmail.com

as of 4/28/03